On-Site Spraying and Repairs
Coatings and Surface repairs for all your metal and powder coated surfaces
For your residential or commercial projects we can paint a variety of different surfaces such as metal, steel and powdercoated metal.
Aluminium doors windows
Garage doors
Rollershutter doors
Shopfronts
Plastisol
Powder coatings
On-site Spraying
Our team is available for site-work, including surface repairs on metal and powdercoated doors and cladding.
CSCS, IPAF and PASMA certified
Mainly covering South Wales but can travel further if required
Contact us if you need some last minute repairs or site-work
Competitive day-rate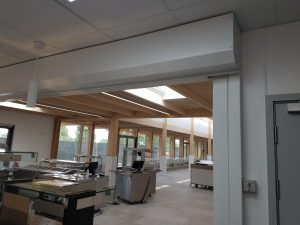 How do we paint?
We start by masking up and surrounding areas to protect against overspray
If present, silicone sealant is removed from the surface. Silicone is very problematic for paint and it must be fully removed for proper adhesion.
Next the surface must be keyed properly to give a surface a profile for the paint to bond.
This is achieved by sanding or other abrasives
Surface rust is treated and removed where possible. Rust is problematic and we will advise you if the corrosion is too far gone for spraying
The surface also requires a thorough cleaning to remove any contaminants that could interfere with paint adhesion
If any surface repairs are required they would be completed at this stage
Paint is ready to be applied!
Certain metals require primer or a pre-treatment before a topcoat.
Weather must be dry, under 80percent humidity and not go below 3 degrees overnight.
The paint is touch dry very quickly but takes several weeks to fully cure. For high traffic areas like door frames or thresholds care must be take not to damage the paint before fully cured.
We encourage you to complete any building works first before getting door frames sprayed.
After painting silicone is re-applied if required
We use paint from several different high-end suppliers including Kolorbond, Axalta, HMG and Lechler.
We mainly paint with solvent based paint outside but we have water based options for interior projects, hard wearing but saves on fumes indoors.
Some surfaces that are severly corroded or have been painted several times before and are peeling may not be practical to spray
We do not offer at this time but in some cases shotblasting previous coatings is the best option before re-coating.
Give us a call and send over some photos and we can assess your project from there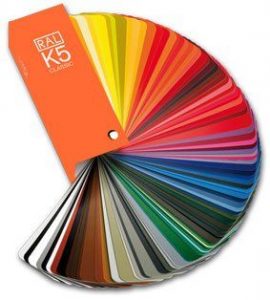 Colour Options
Our paint suppliers can mix to any common colour scheme.
The most common scheme for exterior windows is RAL but there is also British Standard and decorative brands such as Farrow and Ball.
If the supplier does not have a colour in their system a colour sample card can be sent to them to be matched for an extra fee.
Colour representations on screen are not always very accurate so look at a variety of different images to get an idea of colour.
Google image search houses by colour can be a helpful way to narrow down the options.
Physical colour charts are the best way to view a colour but online viewing can help narrow down the search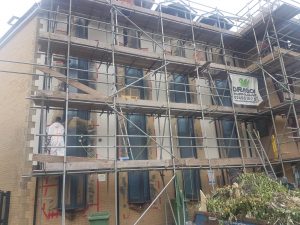 How much will it cost?
Pricing for metal windows and doors is similar to PVC pricing but may allow for increased surface preparation.
Single garage doors start at around £250 but goes up if significant surface preparation is required
Our team is also available for site work on a competitive day rate, ideal for last minute repairs to cladding, doors or other surfaces