Why replace when you can refurbish!
Photo; pvc Windows in F&B Purbeck Stone
Why Spray your kitchen?
Spraying kitchen cabinets is a great way to give your kitchen a brand new look without having to replace your cabinets.
Spraying leaves a very durable, chemical resistant coating suitable for a variety of different surfaces included laminate, melamine, mdf and vinyl wrapped.
Old wood cabinet doors can also be renovated, sanded back of all old coatings and re-painted to a finish without brush or roller marks.
As part of the process we repair old holes or even fit new handles and repair the existing holes. Cracks, damage, rough MDF edges can be filled and painted. If there is serious delamination of the existing mdf we can offer the option to fully remove existing vinyl wrap and spray the original surface.
We also replace broken hinges, adjust hinges, replace broken screws and do other simple repairs as part of the re-installation of the doors and drawers.
Our goal is a factory finish to update the look of your kitchen with a surface that lasts years.
We can also advise you if spraying is not the best option for certain pieces. In some cases water damage may have destroyed too much of the MDF to make painting feasible.
Plinths especially are susceptible to water damage and in some cases replacement is a better alternative. We can advise you on different options.

Give me a call or email me some photos of your kitchen and cabinets.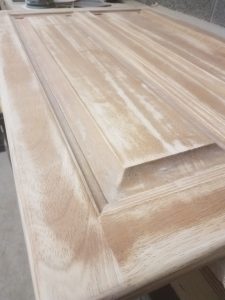 How do we paint?
Remove doors to spray off-site in our workshop
We arrange a day where we come by to spray all the carcasses and any other exterior items that are fixed in place
Depending on the size of the kitchen the carcasses can take 1-2 days to complete
We mask out the surrounding areas, walls, floors and interior of the cupboards and drawers.
Prep includes sanding and thorough cleaning.
We seal the room with an extractor fan to mitigate dust and fumes (if using solvents)
Primer/undercoat goes on first after drying, we sand primer and do surface repairs; old holes, cracks, damage is filled and repaired, raw mdf is filled and sanded topcoat can then be applied
Doors turnaround 1-2 weeks depending on number of doors and type of surface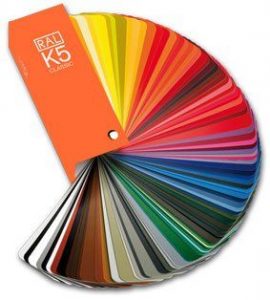 Colour Options
Our paint suppliers can mix to any common colour scheme
If the supplier does not have a colour in their system a colour sample card can be sent to them to be matched for an extra fee.
Colour representations on screen are not always very accurate so look at a variety of different images to get an idea of colour.
Google image searches of kitchens by colour can be a helpful way to narrow down the options.
Physical colour charts are the best way to view a colour but online viewing can help narrow down the search
Our paint can be applied to different gloss levels, 10% 30% 50% and full. We do recommend 30-50 percent gloss for cabinets.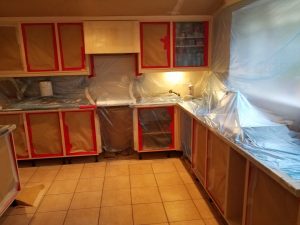 How much will it cost?
Pricing for cabinets is difficult to assess without seeing the project.
Surface is the main factor and different surfaces require different levels of surface preparation. Raw MDF and wood are the most time consuming surfaces requiring significant amounts of sanding. Likewise elaborate mouldings or detail also adds to the time required
Vinyl wrapped mdf or other similar surfaces in really good shape require less prep.
As a rough guideline, figure anywhere from £65 per door alone , £100 per cabinet (including exterior carcass, plinths, mouldings) and £50 per drawer. Starting at around £1000 for a small kitchen. Larger kitchens, wood surfaces, decorative mouldings and distance from our shop also effects pricing. A large full wooden kitchen, including previously painted wood carcasses, mouldings, plinths and open shelves can run upwards of £2000.
Email some photos to me and I can get back to you with an estimate.
We also occasionally run special offers on kitchens so give me a call and we'll see what we can do.
Some Samples of our PVC spraying
Announcements
Regarding COVID, we are still working although face some delays obtaining certain materials and PPE.
If visiting your house we practice social distancing and mask wearing.
If you need to postpone works due to vulnerable people present at home we are happy to accomodate and re-schedule!
With COVID and everyone at home we have had a huge upsurge in work requests and jobs. We appreciate your patience for delays responding to messages!
Our site is under a massive update right now and we will be adding more photos and content. Stay tuned!