Paint Spraying for your PVC

Why replace when you can refurbish? Here at dragon coatings we can spray UPVC to any colour of your choice.
Photo; pvc Windows in F&B Purbeck Stone
We use quality hard wearing paint specifically designed to be painted on uPVC. Spraying gives a factory finish making your windows look like new!
Examples of what we can paint include;
windows and doors
conservatories
pvc garage doors, cladding
soffits, fascia and gutters
With specific paint we can also paint surfaces like composite doors and GRP.
Anthracite grey (RAL 2016) is a very popular choice.
Painting the dated wood effect windows to white or any other colour is also popular. Especially inside, painting dark brown to white helps brighten up a room.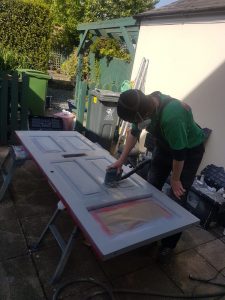 How do we paint?
We start by masking up and surrounding areas to protect against overspray
Silicone is removed from the surface.
Silicone is very problematic for paint and it must be fully removed for proper adhesion.
Next the surface must be keyed properly to give a surface a profile for the paint to bond.
The surface also requires a thorough cleaning to remove any contaminants that could interfere with paint adhesion
If any surface repairs are required they would be completed at this stage
Opening sashes are removed and sprayed separately when possible
Paint is ready to be applied!
Weather must be dry, under 80percent humidity and not go below 3 degrees overnight
The paint is touch dry very quickly but takes several weeks to fully cure. For high traffic areas like door frames or thresholds care must be take not to damage the paint before fully cured.
We encourage you to complete any building works first before getting door frames sprayed.
After painting, silicone is re-applied
We mainly paint with solvent based paint outside but we have water based options for interior windows, hard wearing but saves on fumes in the house.
We guarantee all our work for 10 years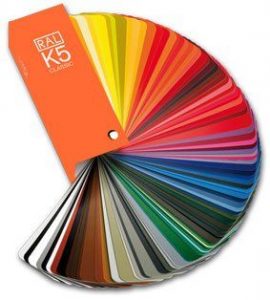 Colour Options
Our paint suppliers can mix to any common colour scheme.
The most common scheme for exterior windows is RAL but there is also British Standard and decorative brands such as Farrow and Ball.
Gloss levels are 10%, 30% and full gloss.
If the supplier does not have a colour in their system a colour sample card can be sent to them to be matched for an extra fee.
Colour representations on screen are not always very accurate so look at a variety of different images to get an idea of colour.
Google image search houses by colour can be a helpful way to narrow down the options.
Physical colour charts are the best way to view a colour but online viewing can help narrow down the search.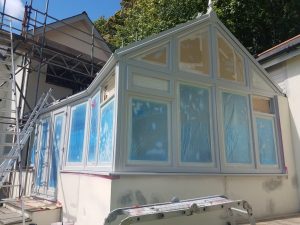 How much will it cost?
Cost depends on a number things including how many panes or opening sashes, access and how much prep is required. I will need to see some photos or the windows in person to give an accurate price.
To give you an idea if spraying is the right choice for your budget, prices start around £100-125 per window.
Single doors start at about £175 but go up if the frame or surrounding windows are included.
Windows with more sashes or difficult to reach will cost a bit more.
We use our own access wherever possible to save on installing scaffold.
Prices are for one side only unless otherwise mentioned.
Price includes removal of silicone and re-siliconing in matching colour (where possible) as well as materials.
We do not ask for a deposit unless an unusual colour match is requested
Some Samples of our PVC spraying
Announcements
Regarding COVID, we are still working although face some delays obtaining certain materials and PPE.
If visiting your house we practice social distancing and mask wearing.
If you need to postpone works due to vulnerable people present at home we are happy to accomodate and re-schedule!
With COVID and everyone at home we have had a huge upsurge in work requests and jobs. We appreciate your patience for delays responding to messages!
Our site is under a massive update right now and we will be adding more photos and content. Stay tuned!